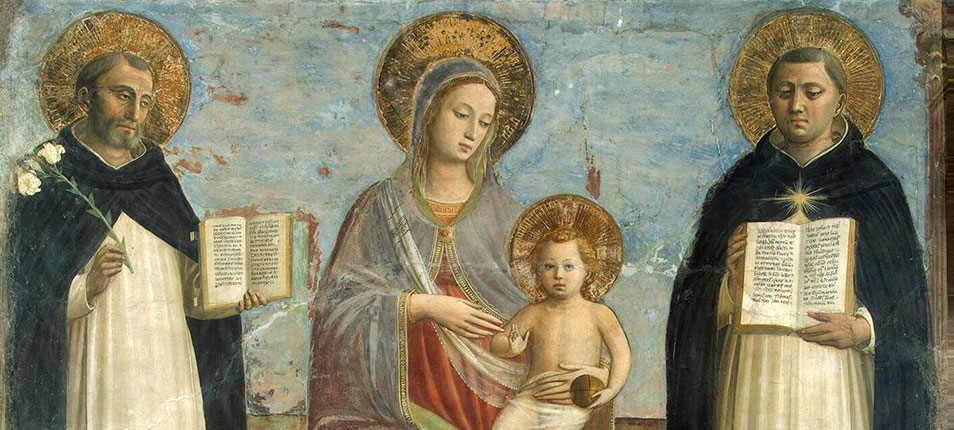 St. Thomas Aquinas Priory
​​​​​​​​​​​​​​​​​​​​​​​​​​​Image: ​Blessed Giovanni da Fiesole, O.P. — Fra Angelico (c. 1387 – 1455)
Virgin and Child with St. Dominic (left) and St. Thomas Aquinas (right)
​Fresco (1424 – 1430), Hermitage, St. Petersburg, Russia
Dominican Fr​iars
St. Thomas Aquinas Priory
Providence College
​​
In accordance with Bishop Thomas Tobin's directive of March 16th, all public Masses are suspended in the Diocese of Providence, effective March 17, 2020, and continuing until further notice. As this directive affects our Priory chapel as well, we can no longer celebrate public Masses while the directive remains in effect. We apologize to all of you who are faithful worshippers with us for whom this is not only a serious inconvenience but a great spiritual loss. May our prayers 'physically apart from each other' accomplish instead a deeper spiritual union that will bring healing and an end to the pandemic, and help us together to grow stronger in faith and trust in God. –Fr. Thomas P. McCreesh, O.P., Prior
When the doors of Providence College's Harkins Hall first opened to receive seventy-one students on September 18, 1919, they were welcomed by nine Dominican Friars–administrators and faculty members–and one lay faculty member. The Dominicans' home was on the fourth floor of Harkins Hall–bedrooms, common areas, refectory, and kitchen–with their chapel being on the fifth floor, in the crown of the building. As enrollment increased, so did the number of Dominicans; thus, in 1927, when the rear wing of Harkins Hall was constructed, additional bedrooms and a large common area were added.
This space provided housing for approximately thirty Dominicans, but, as enrollment continued to increase, so did the number of Dominicans serving the PC community. When Aquinas Hall, the first student residence hall, opened in the late 1930s, bedroom suites were provided for a number of Dominicans. In addition, Dominicans resided in St. Dominic House and the old Guzman (now St. Martin) Hall–the two original manor houses on campus dating back to the 1850s–as well as Thomas House, a two-storied wooden structure opposite the Dominican Friars' Cemetery, where Lennon Field now sits. As new residence halls were constructed, beginning in the early 1960s, so too were bedroom suites for the Dominicans. ​Records indicate that the number of Dominican Friars on campus peaked at eighty-six in 1947, declining to seventy-some by the early 1970s.
It had long been a dream of the Dominican Friars, and Providence College, that a new Priory be constructed to accommodate more appropriately the Dominican Community. That dream was finally realized on October 7, 1984, when the new St. Thomas Aquinas Priory and Our Lady of the Rosary Chapel were dedicated. This construction was made possible through the generosity of many benefactors, led by Dr. Francis L. Gragnani '40 and his wife Charlotte, later to be major benefactors of St. Dominic Chapel (2001), both now deceased.
The first floor accommodates the Chapel, the refectory (dining room), and kitchen, as well as a conference room, offices for Priory officials, and two parlors for visiting. On the second floor are three common rooms, a small library, a conference room, and a laundry room. Forty-two bedroom suites for Dominicans and guests occupy part of the second floor and the four floors above. As of the autumn of 2019, the Dominican Community numbered thirty-six, with thirty-one of them actually residing in the Priory building and five residing in other Dominican housing on campus.